retrofit automatic hopperlifter
Retrofit 24Volt charge-hopper lifter, facilitating easy concrete mixerdrum entrance for automatic concrete washout and robotic concrete removal systems.
The retrofit HopperLift is a 24 Volt powered system for easy mixerdrum access and fits all regular concrete mixerdrums. The HopperLift is easy to mount on each mixerdrum and therefor a valuable attribute regarding Safety and Health for concrete mixertruck drivers.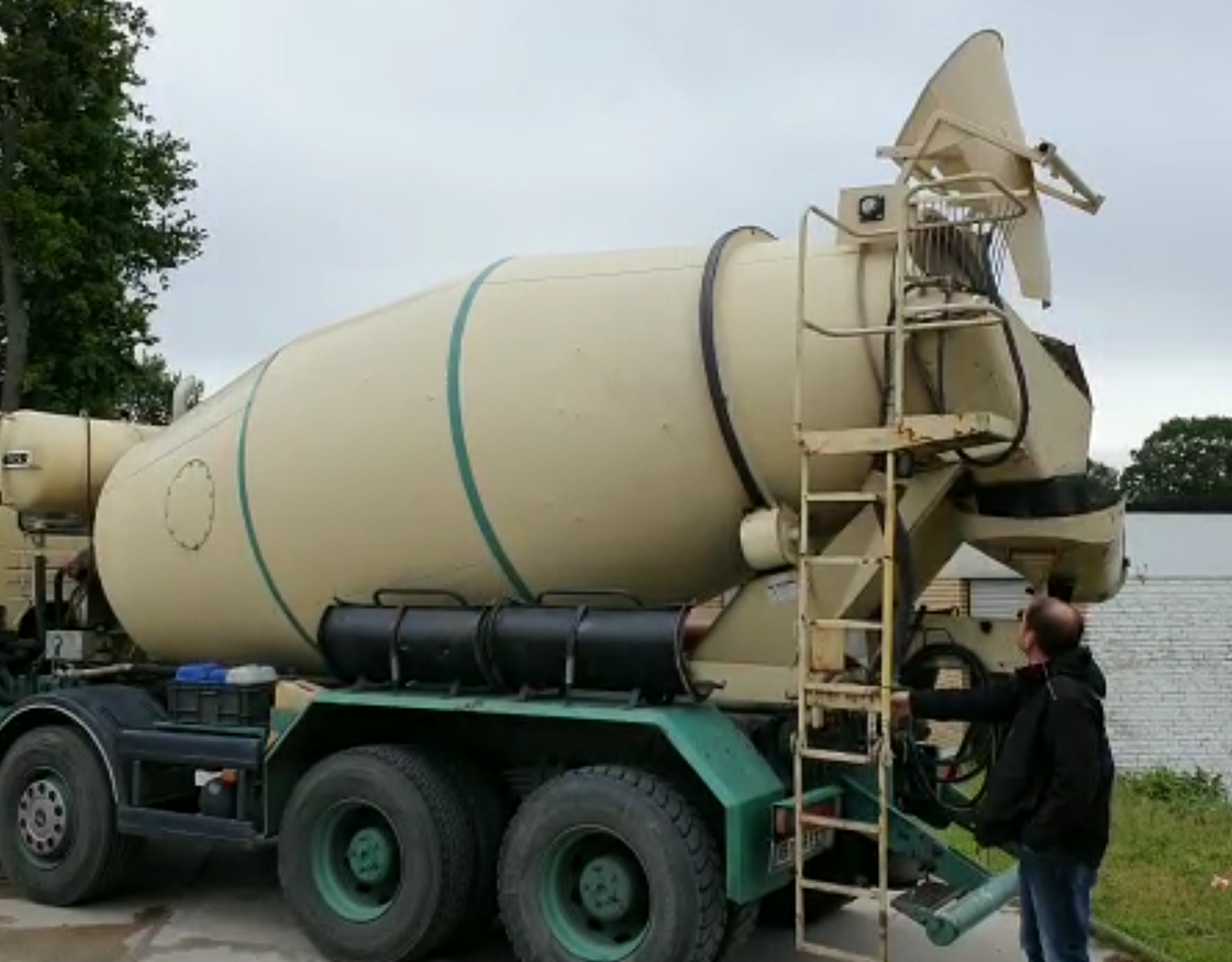 01 June 2020
After 1 year and 4000m3 of concrete charged the testing period is successfully finished. We want to show our gratitude to Ragano Nordhorn from Germany for their involvement facilitating this test on one of their mixertrucks. Below the fleet manager of Ragano, Mister Andreas Siebert, has put his experience in a writing.
from: Andreas Siebert
sent: vrijdag 12 juni 2020 15:00
to: Blascon Edwin Fransen
Subject: Comments on HopperLift
Hopperlift BLASCON – RAGANO Transportbeton GmbH
The company RAGANO Transportbeton GMBH & Co.KG has tested a hinged electric hopper from Blascon on a SCANIA truck mixer with the Liebherr superstructure for over a year.
The truck mixer transported approx. 4000 cubic meters of high-quality concrete for civil engineering, wind power plants, agriculture and housing construction.
After this year of testing, Ragano as a leading company in the field of ready-mixed concrete can confirm that the HopperLift is an excellent contribution to Health & Safety. We recommend the hinged electric hopper to others. The ingenious technology offers every comfort to the driver. The hopper can be operated from the ground and thus offers maximum safety for the driver and contractor.
The annoying climbing on the platform is no longer necessary. In addition, the safety for the driver is guaranteed during the daily cleaning of the mixertruck.
In combination with a robotic cleaning system as DrumJet or ReadyJet with adjustable lance, the cleaning package for the mixertruck is perfect.
We have come to know and appreciate the company BLASCON as a trustworthy service provider who has been supporting us in the field of mixertruck cleaning for years.
We wish the company BLASCON much success in the future and a good and successful start with the new product.
With kind regards,
Andreas Siebert
– Fleetmanager –
RAGANO Betonfertigteile, Recycling & Baustoffhandel GmbH & Co. KG
RAGANO Transportbeton Nordhorn GmbH & Co. KG
Schlachthofstr. 10, 48527 Nordhorn
Tel. +49 (0)5921/8235-20, Fax. +49(0)5921/8235 -29
Safety
ground-operated lifting system equipped with integrated fall-back block
Operation
24 Volt electric operated with switch at ground level 
Quick
Quick lifting system, just operate the switch to lift and drop the charge hopper in a few seconds. 
Easy
simple one switch operation
HopperLift facilitates automatic mixerdrum cleaning & washout
Stationsstraat 5A
NL – 7573 AT  Oldenzaal
Phone: +31 625 307 807
Email: info@blascon.com
Büro und Lieferung
Twentestrasse 2
D – 48527  Nordhorn
Telefon: +49 1520 6273 901
Email: info@blascon.com